I live in the County of Kent here in England, 3 miles to the city of Canterbury. I don't know much about the city, but Canterbury tales ring a bell to me as I've learned it from school in English literature. lol.. I'm quite familiar of the city a bit and cos of that I'll give you a lil hint on where to go when you visit the city..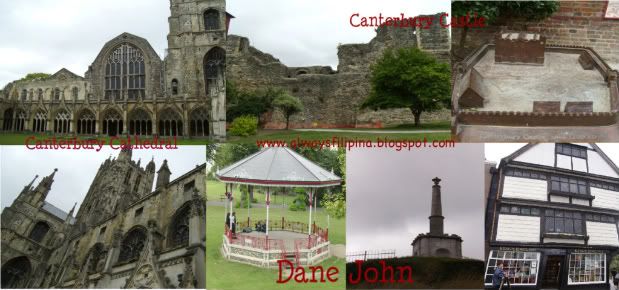 The most popular tourist spot is the Cathedral which is located in the heart of the city. I tell you, it is just easy to locate cos you can see the peak of it as soon as you enter the Canterbury! *wink* If you enjoy walking in a lovely garden, Dane John is your area plus you can have a view of the entire city if you go up high in the burial Mount. And just a few minutes walk you can enjoy shopping in the high street and there you'll see the Kings English crooked book shop! And next thing you can do is to visit the ruins of the Canterbury castle!
Good day to you guys! Hope you enjoyed my quick tour hint! lol..