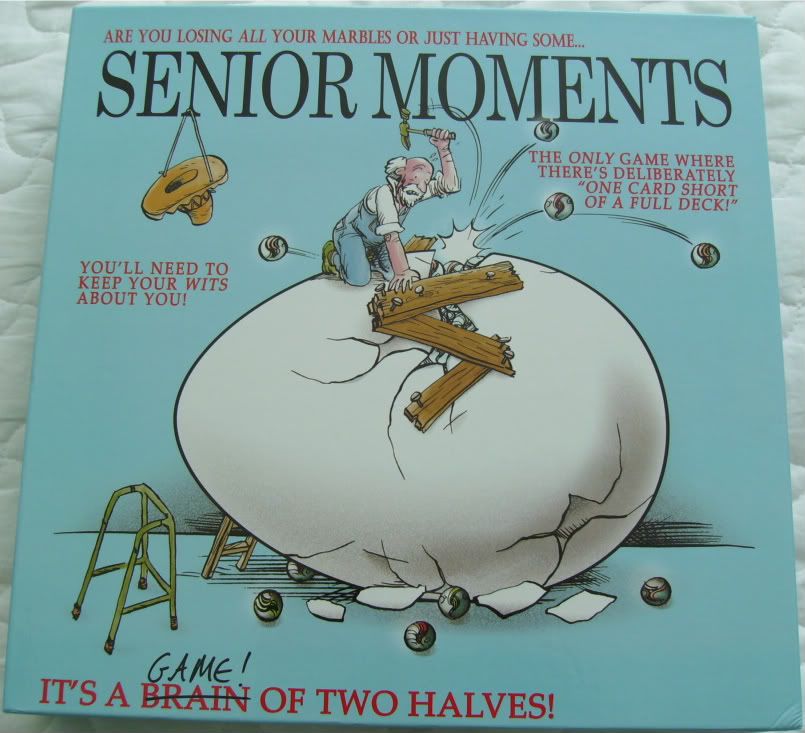 Last two weeks ago on bank holiday weekends, my bunny and I went shopping to get a coat for him. But unfortunately we didn't find something but instead, we popped in Past Time shop and got this
Senior Moments
board game on 20% discount to add in my bunny's board game collections.
The game contents:
51

Senior Moments

card
51

Brain Teaser

cards,
51

Hiccup

cards
51

Things You should Know

48 Marbles
4 Danger Zone scoring cards
2 dice
game board and rules
How to play the Game?
Senior Moments invites you to live through a week of all too familiar events in an attempt to be the first player to cross the finish line without losing all their marbles!
Along the way you'll need to answer trivia questions in a category entitled "Things you should know!", solve riddles and puzzles set up by "Brain Teaser" cards, smoothly navigate "Hiccup" squares and finally, try avoiding "Senior Moments" when they confront you.
Getting thngs right helps save your precious marbles, but getting things wrong puts them in your grey matter danger zone.
Lose them all and you'll have to start living entire days again!
We played the game twice already and my bunny won all of those!I just hate brain teaser, so poor in logic..haay.How about you what board game do you have?Or any
blues
you want to share? Join and see the entries of Blue Monday hosted by no one else but Madame Sally at
Smiling Sally
.=)
Have a good day everyone!