Last bank holiday Monday bunny and I went to
Howlettes Animal wild park
in Bekesbourne (
blog here
). We've seen lots of wild animals and managed to see them all despite of a very cold weather. We took loads of photos especially of my favourite wild animal Mr. Tiger.
This is the Bengal Indian Tiger which I really loved watching and taking pictures of. In fact I even have video of him having a wee..hehe. According to Howlettes Animal trivia the habitat of this kind of tiger is mostly in swampy wetland area and forest of Northern and South-West of India. And as we all know tiger is the largest of all cats. Scientifically known as Panthera tigris, it is the most fascinating and fearsome creature int he world.Anyways, so much to say, you can find out more about the Bengal Indian Tiger
here
.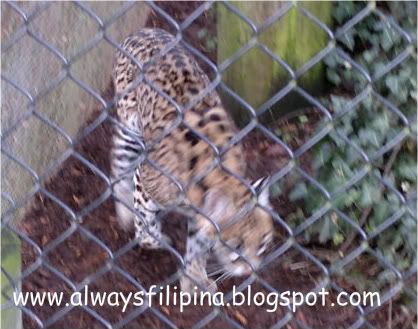 And this a bit shaky, fussy photo above is an ocelot.I beg your pardon for not so clear photo but bunny and I struggled so much time trying to get a perfect photo of this creature, this is just the best we took..hasit! Anyhow back to ocelot, it is a native of south America and scientifically known as Leopardus pardalis. As you can see ocelot has a spot/stripey combination fur coat and is brownish in colour, unlike the Bengal that it is just stripey and in yellowish/reddish colour. It is not as big as Bengal tiger as well. It is feed by small deers,rabbits and other reptiles. I reckon if any chance they will be a wonderful pet!I wish!hmmpp..Want to know more about this creature,
click here
.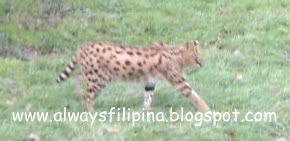 This snob looking creature is called Serval (Lepatailirus Serval). Not so very big, serval is generally found in most parts of Africa excluding the dessert regions. They have extraordinarily long legs, long necks and small heads. It weighs approximately 8-18kg. and 8-1.3m long. They are quite interesting bit different and runs a lot, fast! More details
click here
.
I'm sure I've seen and encountered more of the cats species at Howlettes, just that I can't find a decent photo. Anyways hope you picked even a bit of info in my post. These animal details are mostly picked at
Howlettes website
but all opinions and sentence constructions are mine. Sharing this post to
Camera Critters
!Great day!